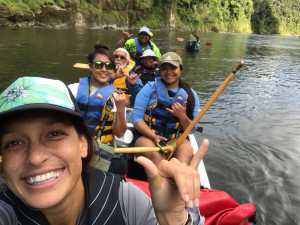 Kimiora facilitates 4 Rangatahi Wananga each year
July camp
Every July we bring together rangatahi aged from 8-17 years of age to learn leadership and tikanga marae skills on our Awa Tupua
September camp 
Every September we bring together rangatahi to learn leadership and tikanga marae skills on our Awa Tupua,  collaborating with the Department of Conservation, the Police , Work and Income and Child Youth and Family. We also invite other like-minded organisations like Te Tai Timu Trust along to share.
January camp – Te Tira Hoe Waka
This annual Whanganui Iwi wananga is a two week pilgrimage from the top reaches of the Whanganui River to the sea, that teaches Whanganui Iwi history and culture to descendants of the Whanganui River.
Te Tai Timu Trust Camp
Kimiora rangatahi join rangatahi from Te Tai Timu Trust in Ngati Kahungunu on their annual camp in January each year. Its amazing
If you would like your teenager to participate in our camps during the school holidays please make contact with us on 0278654402.